Making the Most of a Small Kitchen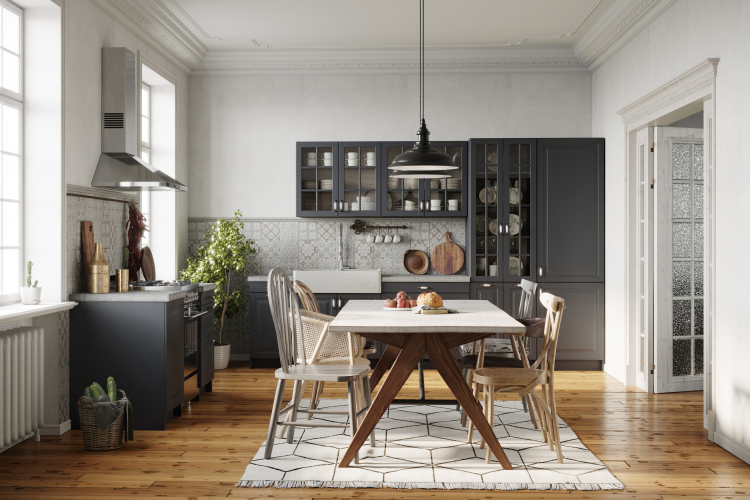 While it's nice to dream of having a spacious kitchen with all the bells and whistles, the reality is that the kitchens we live with are often smaller than we'd like. Add a limited budget, and it isn't easy to maximize the space we have.
If you're struggling to add style and functionality to your kitchen without breaking the bank, designers offer a few suggestions for making the most of limited space:
Use every available inch
White cabinets will give the illusion of more space, and when you don't have a lot of actual storage space, let the walls come to the rescue. Add hooks and open shelving to hold crockery, mugs, and bulky utensils.
Change the handles
Swapping out the handles on drawers and cabinets will instantly refresh the look of your kitchen. Choose from many designs from funky to elegant, and let pops of color add interest to an all-white kitchen.
Add pattern
Wallpapering one wall or a small area is a great way to add personality without overpowering a small kitchen. Choose an eye-catching pattern to complement the otherwise cool, white space.
Choose a new backsplash
Give the kitchen a whole new look with a new and modern backsplash. Contemporary versions offer a unique alternative to outdated tile, and are an innovative way to add visual interest to a smaller room. Installation is quick, clean and quiet, and in many cases your new backsplash can be installed over existing tiles.
Opt for 'hidden' appliances
Big and bulky appliances, such as the hood over your stove, can make a small kitchen seem even smaller. Newer flush fitting ceiling hoods remove visual clutter and allow for clear sight lines across the kitchen.
Use low-level storage
Consider low-level options such as a bench seat or basket to add extra storage. They're a good way to store linens, pots and pans in your kitchen.
Reprinted with permission from RISMedia. ©2023. All rights reserved.
---
Also in This Issue: